| Wireless Driver & Software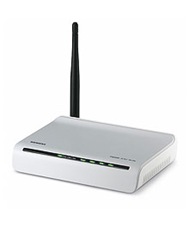 Essential WLAN router for shared internet access, wireless surfing and versatile home networking.
Enjoy the flexibility and convenience that comes along with a Gigaset SE361 WLAN router. Thanks to data transfer speeds of up to 54 Mbps and integrated firewall features, this high-quality Gigaset router lets you safely surf the internet from virtually anywhere in your home. Plus, several computers can be hooked up to the internet at the same time 鈥?so the whole family can explore the world whenever they like.
Wireless data transfer at up to 54 Mbps (compatible with IEEE 802.11b/g)
Shared internet access for multiple users
4 Ethernet ports for connecting additional PCs or LANs
Integrated firewall plus comprehensive security features (e. g. WPA2, WPA, WEP encryption)
Multi-language software, documentation and online help
Operating instructions and software available in several languages
Small size, clear design
Easy to configure with basic and security wizard
Preconfigured DSL providers (for Germany, Austria; planned for other countries)
Gigaset SE361 WLAN User guide (full version) en GBR IRL (PDF): Download
Gigaset SE361 WLAN Firmware (version 1.00.1): Download
Firmware Version 1.00.1, August 2, 2007
Changes in the version:
Austrian PPTP problem fixed
Italian and French language problem fixed
PPPoE Connection/Disconnection problem fixed
VoIP compatibility improved