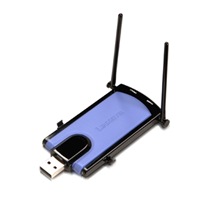 Wireless-N USB Network Adapter (WUSB300N)
Easy Wireless-N connectivity for your computer; USB slot installation.
Fast performance and expansive, solid coverage.
WPA2 encryption for industrial-strength privacy protection.
Device Name: Linksys Wireless-N USB Network Adapter WUSB300N
Device ID: USB\VID_13b1&PID_0029
Linksys WUSB300N is based on the Marvell TopDog Wireless chipset.
Please ensure you select the correct hardware version as not all downloads are compatible with your device.
Downloads and Drivers for WUSB300N hardware version 1.0
Linksys WUSB300N Wireless-N USB Adapter User Guide: WUSB300N_V10_UG_B-WEB,0.pdf
Linksys WUSB300N Wireless-N USB Adapter Data Sheet: WUSB300N_V10_DS_A,0.pdf