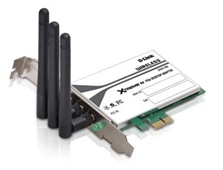 The D-Link Xtreme N PCI Express (PCIe) Desktop Adapter (DWA-556) is a 802.11n wireless client that delivers unrivaled wireless performance for your PCI Express-enabled desktop computer. The PCIe interface provides superior performance over a standard PCI interface. This wireless adapter delivers up to 14x faster speeds* and 6x farther range than 802.11g while staying backward compatible with 802.11g networks. Once connected, you can share a high-speed Internet connection, photos, files, music, videos, printers, and storage.
Up to 50% faster than legacy PCI cards
Fits any standard PCI Express slot – x1, x4, x8, or x16
Offers increased bandwidth, reliability, and more functionality than a legacy PCI card
Device Name: D-Link DWA-556 Xtreme N PCIe Desktop Adapter
Hardware ID: PCI\VEN_168C&DEV_0024&SUBSYS_3A701186
Download D-Link DWA-556 Xtreme N PCI Express Adapter Windows 2000, XP, Vista Driver, Utility:
Download
Version
Operating System(OS)
Date
1.30
Win2K, WinXP, Vista 32, Vista 64
8/07/2008
- Supports Windows 2000/XP/XP64/Vista/Vista64.