| Wireless Driver & Software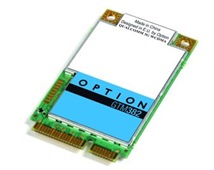 With HSDPA data rates of up to 2 Mbps in uplink and up to 7.2Mbps in downlink  the fourth generation GTM382 MiniCard is the perfect solution for embedding HSUPA, HSDPA, 3G and EDGE connectivity technology into laptops. Its upload speeds make it particularly suitable for demanding applications such as video surveillance and transmitting large files.
3GPP Type III Advanced Receiver Technology comes as standard with the GTM382, providing increased reliability in weak signal areas. And thanks to triple-band 3G and quad-band 2G support, the GTM382 can be used anywhere in the world. Builtin A-GPS capability allows laptops to integrate location-based services in their devices, providing additional value to their customers. Additionally, PCM voice support allows integration of the module in wireless routers.
Device Name: GlobeTrotter MO40x
Hardware ID: USB\VID_0AF0&PID_7601
Download OPTION GTM382 Multimode PCI Express MiniCard Windows XP/Vista/Win7 Driver (V5.1.32.0) :
Windows 7 certified drivers. For a system upgrade to Windows 7 you can use older drivers but for a new Windows 7 system you need these drivers.  New Mobile Broadband features not supported
GTM382 Mobility Manager Utility:
GlobeTrotter Connect 3.1 for Modules, Hokku 3.1 for Option standard modules (Multilanguage),
For Acer laptop (the software from Acer website):
Option GTM382 Windows XP 32/64bit, Vista 32/64bit Drivers, Software: Download
Option GTM382 Windows 7 32/64bit Drivers, Software: Download