| Wireless Driver & Software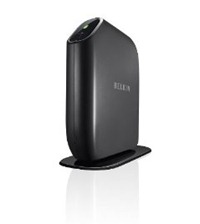 The Belkin Play N600 HD Wireless Dual-Band N+ Router (F7D8301) is the ultimate router for gaming, video streaming, and other high-bandwidth tasks. Featuring Dual-Band technology for combined speeds of up to 300 Mbps + 300Mbps*, this router offers ultimate performance for the most demanding user. Included Gigabit-ports improve file transfer rates and network performance. With preconfigured wireless security settings, your network will be up and running securely in just a few minutes. And with the 3D coverage, you'll be able to access the Internet from anywhere in your home. This router also comes with a suite of advanced Belkin Apps, which will improve your wireless experience.
*The standard transmission rates–300Mbps, 54Mbps, and 11Mbps–are the physical data rates. Actual data throughput will be lower and may depend on the mix of wireless products used.
F7D8301 Play N600 HD Wireless Dual-Band N Router – User Manual
F7D8301 N600 HD Wireless Dual-band N Router – Setup, Router Monitor Software and Apps
Release Date: 09/28/2010
for Windows:
Download version: 1.5, OS compatibility: Windows XP SP3 or higher, Windows Vista, Windows 7, size: 102 MB
for Mac OS:
Download version: 1.5, OS compatibility: Mac OS X 10.5/10.6, size: 139 MB