| Wireless Driver & Software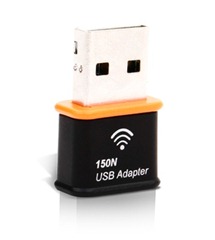 The CNP-WF518N2 offers you freedom and convenience by providing wireless capacity (802.11n) to standard devices with USB ports such as desktop PCs and laptops. This mini adapter enables an access to Internet as well as faster file sharing and printing at 150 Mbps. The CNP-WF518N2 is suitable for various operating systems, and is an affordable solution for a reliable and simple wireless network. This product is easy to install, and it has a compact and sleek design. For an optimized performance, CANYON recommends to combine this USB wireless adapter with a router which also supports a high speed of 150 Mbps.
Features:
LAN Chipset: Realtek RTL8188SU
Uses USB port to connect to PC 鈥?flexible, easy to install and remove
High-speed wireless connectivity: complies with 802.11n , 802.11g and 802.11b standards for up to 150Mbps transfer rate
Supports 20 Mhz and 40 Mhz range in 2.4 GHz band for 802.11n, 1×1:1 antenna configuration
Supports 64/128-bit WEP, WPA, WPA2 protocols to secure your wireless network from unauthorized use
Supports WPS (WiFi Protected Setup) and WMM (Wi-Fi Multimedia)
Download Canyon CNP-WF518N2 WiFi 802.11n Mini Adapter Windows Drivers, Wireless Utility:
Support Win2000, Windows XP, Windows Vista (32 bit/64 bit), Windows 7 (32 bit/64 bit)
Download (2009-11-30 update, from Canyon official site)
Download Canyon CNP-WF518N2 WiFi 802.11n Mini Adapter Linux Driver:
Download (2010-02-22 update, from Canyon official site)
Because Canyon CNP-WF518N2 is based on the Realtek RTL8188SU chipset, you can also try the RTL8188SU driver and software.