| Wireless Driver & Software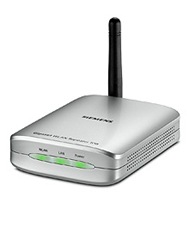 Firmware update for the Gigaset WLAN Repeater 108
Solved Problems:
The DHCP Servers Gateway address was wrong. Hence connected clients couldn't establish an internet connection. Since version 1.18 the default Gateway Address is 192.168.2.1. If your internet Gateway is using a different IP address you have to configure it.
In previous versions it was possible to add multiple Access Points on different channels. Since Version 1.18 only those Access points are displayed which works on the same channel as the first selected Access Point.
Improvements:
The "Transmission Mode" changes automatically from "SuperG" to "IEEE 802.11b/g(mixed)" if the selected Access Points works on a different channel then channel 6.
Known Problems:
The function "IP Addresstyp: Automatic" works possibly defective. You shouldn't change the default setting "IP-Addresstyp: Static".
The country selection in the basic settings is not stored. This problem has no impact to the functionality.
Under "Status" – "Wireless Network" it is possible that not all connected clients are displayed.
Advice:
After updating the device you must reset the device to its factory defaults to activate the new basic setting (new Gateway address).
Download Gigaset WLAN Repeater 108 Firmware update, V1.18