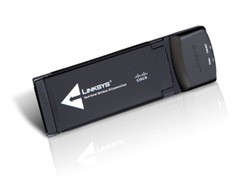 Dual-Band Wireless-N ExpressCard, WEC600N.
Enhance your computer with the Dual-Band Wireless-N Express Card and experience the freedom and convenience of flexible, fast, wide-range wireless connectivity for your laptop. Easy Setup, Get connected quickly. Slides into your laptop鈥檚 ExpressCard slot. Step-by-step Setup
Wizard makes it easy to configure to your network鈥檚 settings.
Technical Features:
Dual Band Wireless-N connectivity for your laptop; ExpressCard slot installation.
Convenient flexibility 鈥?connect on either 2.4 GHz or 5 GHz bands.
WPA2 encryption for industrial-strength privacy protection.
Linksys WEC600N Wireless-N ExpressCard is based on the Broadcom BCM43xx chipset.
Device Name: Linksys Dual-Band Wireless-N ExpressCard WEC600N
Hardware ID: PCI\VEN_14E4&DEV_4328&SUBSYS_00681737
Download Linksys Wireless-N WEC600N Windows 2000, XP, Vista, Win7 Drivers:
Download (Driver only, 12.2MB, Ver.5.10.38.1 – 5.30.21.0)
Setup Wizard Utility(Include windows drivers), Download (157 MB, 11/06/2009)
Linksys Dual-Band Wireless-N WEC600N User Guide: WEC600N-V10_UG_A-WEB.pdf