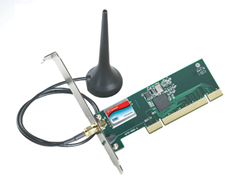 SMC2602W, EZ Connect鈩?Wireless PCI Card, 2.4GHz 11Mbps Wireless PCI Card
The SMC2602W is an IEEE 802.11b-compliant 2.4GHz 11 Mbps Wireless PCI Card. It meets the needs of small business and corporate users who require an 11 Mbps wireless con- nection to an existing LAN. This adapter features an operat- ing range of up to 1,155 feet, and true plug-and-play instal- lation in all desktop computers. The EZ Connect鈩?11 Mbps Wireless PCI Card includes an EZ Installation Wizard that enables quick and easy setup. Simply put the EZ Installation Wizard CD into your CD-ROM drive, click on Install Driver/Utility Link, the wizard will per- form  the installation automatically. Then plug in your EZ Connect Wireless PCI Card into the desktop computer, you are now ready to enjoy the freedom of wireless networking.
SMC2602W Wireless PCI Card has 4 type (according to Part Number):  * Where do I find my Part Number?
For Part Number: 99-012004-000
Device Name: SMC SMC2602W EZ Connect Wireless PCI Adapter
Device ID: PCI\VEN_1638&DEV_1100&SUBSYS_11001638
SMC2602W v.1 Win98/ME/2K/XP Drivers/Utility, 12/13/2004, Ver.1.32.1, 1880 kb,
Download
(Supports Win9x, ME, NT, 2000, XP, Linux)
For Part Number: 99-012084-025 and 99-012084-121
Device Name: SMC2602W 11Mbps Wireless PCI Card
Device ID: PCI\VEN_1317&DEV_8201&SUBSYS_260210B8
SMC2602w v.2 Win98/ME/2K/XP Drivers/Utility 1.70.1121.2002, 12/13/2004, 4950 kb,
Download
For Part Number: 99-012084-214
Device Name: SMC2602W 11 Mbps Wireless 802.11 Adapter
Device ID: PCI\VEN_1022&DEV_2003&SUBSYS_260210B8
SMC 2602w v.3 Win98, ME, 2K, XP Drivers/Utility, 12/13/2004, Ver.2.2, 5065 kb,
 Download